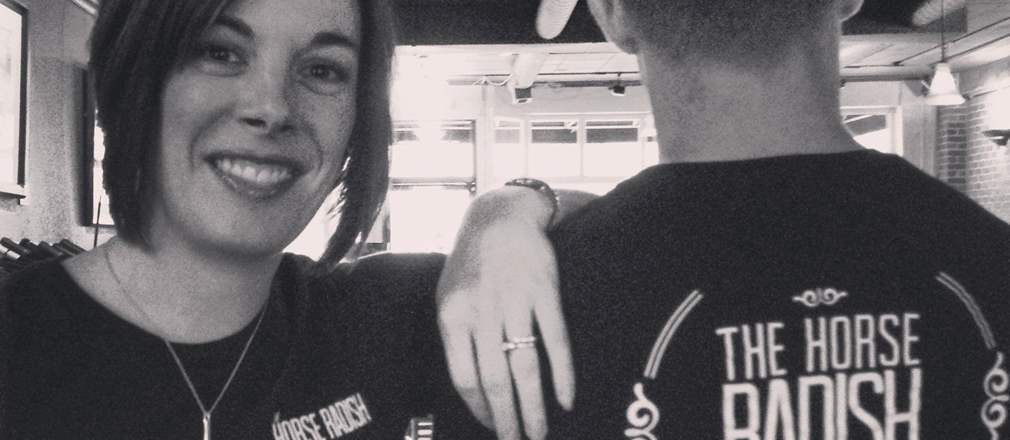 About The Business
We are a restaurant located in the "Great Little Town" of Carlton. Carlton is conveniently located in the middle of Oregon wine country making us the perfect stop on your wine tasting tour. The Horse Radish opened its doors in 2007 and after three years of operation, changed ownership in 2010. Sean and Julie Davis are pleased to live in, and be a part of the community. Moving from Bend in 2009, they have brought a new energy to The Horse Radish.
About The People
Julie graduated from Linfield and has a background in Business and Bookkeeping with a strong sense of customer service. She is thrilled be operating The Horse Radish to serve you!

Sean graduated from Southern Oregon, then Le Cordon Bleu in Portland before finding his passion for winemaking. In 2010 he, along with his brothers, started their own wine label, Marshall Davis Wine. We are proud to serve their wonderful wines by the glass and bottle.

Ryan, Sean's brother graduated from U of O but returned to Oregon from Las Vegas to be our bartender and live music scheduler. Recently, he has left our company to operate the Marshall Davis Tasting Room, right next door. You may still catch him dropping off wine or enjoying an awesome sandwich now that he's not with us full time here.
The other friendly faces you'll see here have come to us from neighboring towns (like McMinnville and Newberg). If they seem like they love this area, it's because they do!! We hope you will fall in love with this great little town just like we did and visit us here at The Horse Radish often.